General election: Poverty and crime pledges to the fore after TV debate – live news
Leaders will try to steer campaign back to their key messages amid wash-up from ITV leaders' debateElection debate: Corbyn and Johnson clash over NHS and BrexitSign up to the morning briefing 6.34am GMT Top billing on most of the front pages...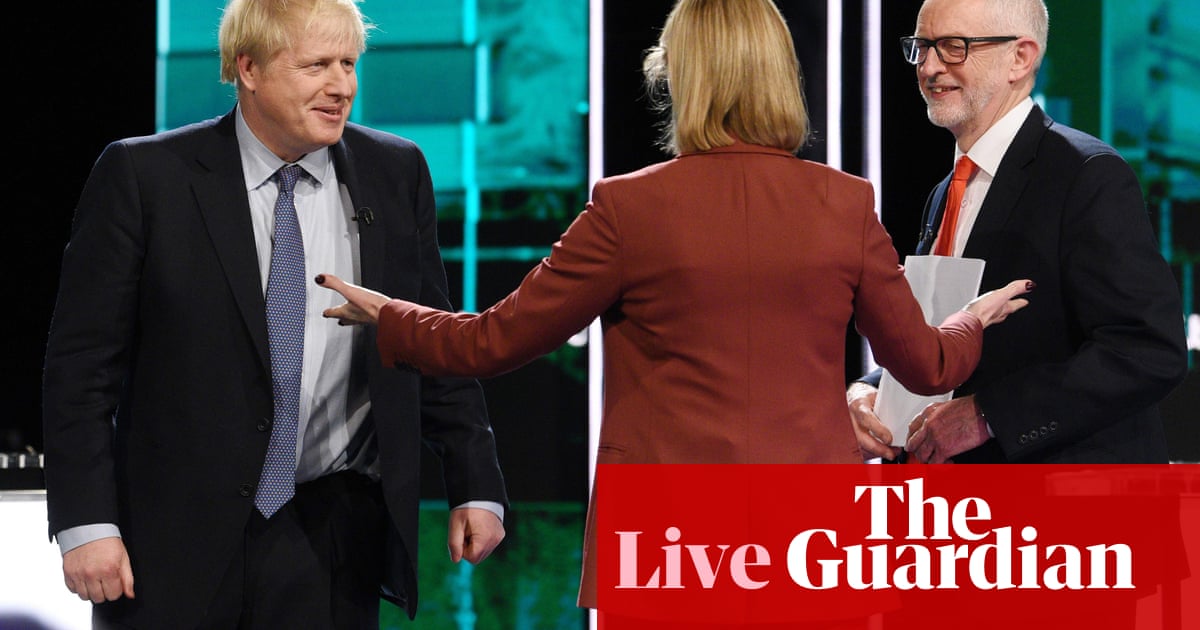 Leaders will try to steer campaign back to their key messages amid wash-up from ITV leaders' debate
Top billing on most of the front pages is given to the election leaders' debate with some focusing on the snap YouGov poll that declared Boris Johnson won the night 51-49. Others highlighting the leaders' answers, or lack of them.
Wednesday's @DailyMailUK #MailFrontPages pic.twitter.com/yNiidAMPJb
Tomorrow's #frontpage - Corbyn dodges Brexit question NINE TIMES#TomorrowsPapersToday pic.twitter.com/SGoTlCgnFP
Guardian front page, Wednesday 20 November 2019: Leaders stake their ground: Johnson Brexit, Corbyn NHS pic.twitter.com/mk3pv5pYwk
Just published: front page of the Financial Times, UK edition, Wednesday 20 November https://t.co/POCSBeysWm pic.twitter.com/xHhs2NwKH1
The Times 20/11/2019
Boris Johnson and Jeremy Corbyn shaking hands during the Election head-to-head debate on ITV, prior to the General Election on December 12th, 2019 Photo : Jonathan Hordle/ITV/PA#tomorrowspaperstoday #thetimes #brexit @thetimes pic.twitter.com/2F81eJfGY5
Wednesday's front page: Insults fly at leaders' TV debate - but no killer blows#tomorrowspaperstoday #skypapers #bbcpapers pic.twitter.com/O3Srb2yUBY
Tomorrow's front page: Andrew cop's notebook holds key evidence #tomorrowspaperstoday https://t.co/AJzxk0JseV pic.twitter.com/RR393YYEXE
As for what the parties will be wanting to talk about today: Labour will promise to eliminate what it calls the "10 modern scourges of poverty", from soaring food bank use to childhood deprivation, in its latest attack on the Conservatives' record in government. Among its policies are increasing the minimum wage to £10 an hour and extending it to under-25s; reforming universal credit; and scrapping restrictive rules including the two-child limit and the benefits cap.
The Lib Dems will launch their manifesto in London and announce a plan to extend the scope of free school meals; increase schools spending by more than £10bn a year within the next parliament; and recruit 20,000 more teachers.
Continue reading...