Emmanuel Macron tells Boris Johnson backstop is 'indispensable' – live
Rolling coverage of the day's political developments as they happen, including Boris Johnson's meeting with the French president Emmanuel Macron in ParisMacron/Johnson's statements and Q&A - SummaryMacron/Johnson Q&A - Snap verdict 1.36pm BST...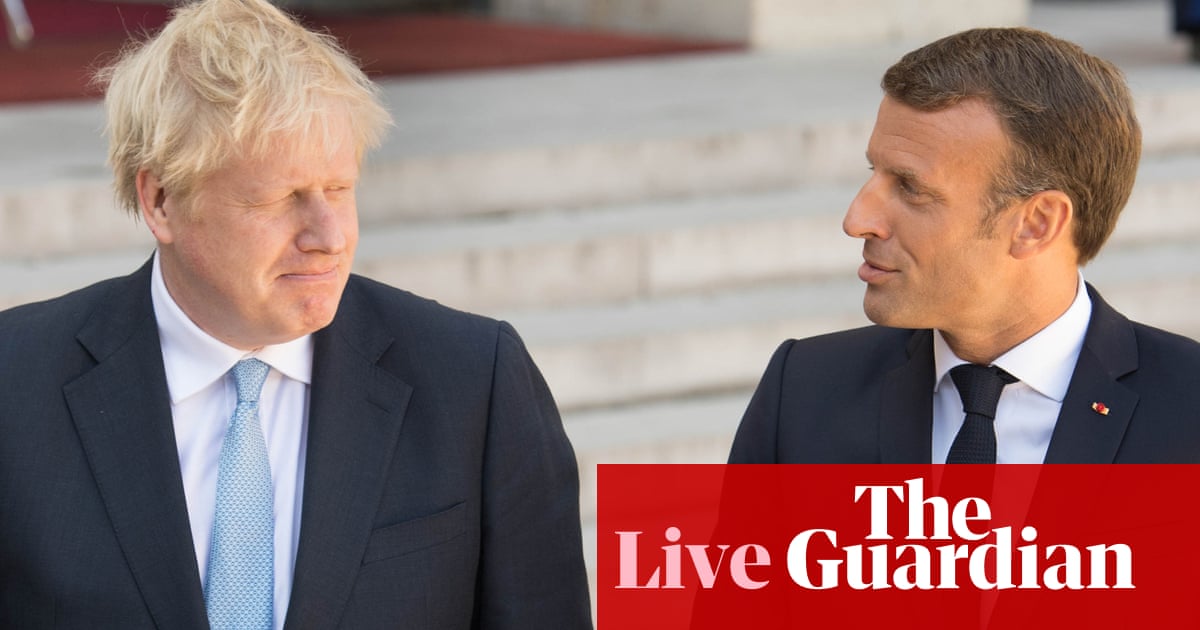 Rolling coverage of the day's political developments as they happen, including Boris Johnson's meeting with the French president Emmanuel Macron in Paris
Mujtaba Rahman, the former European commission official who does Brexit analysis for the Eurasia consultancy, has a good take on the exchanges.
So @EmmanuelMacron has taken up & amplified Merkel's 30 day challenge to @BorisJohnson, arguing UK must produce "visibility" on its alternative ideas for backstop within 30 days. No chance of sig change to WA, but urges @MichelBarnier to use 30 days to look at UK ideas (if any)
Macron's comments will be interpreted by Brexiteers as a "concession". Sounds more like Berlin & Paris have agreed tactics to evade the blame game trap set by Johnson 2/4
OK, they're saying to Boris, you insist this can be done another way. You have 30 days to produce what you, the British, could not produce in two years. This *IS* a step away from blanket EU refusal to look again at the WA *BUT* it's also a refusal to change it significantly 3/4
Otherwise, presser in Elysee courtyard memorable for absurd contrast between a spruce Macron, (dressed for his wedding?) & Johnson looking like he's awoken from sleeping in embassy limousine. Macron grinned throughout like an actor not quite admiring the performance of another
Here are the main points from what Emmanuel Macron, the French president, and Boris Johnson said in their opening statements and Q&A.
I would like to say that the key elements of this agreement, including the Irish backstop, are not just technical constraints or legal quibbling, but indeed genuine, indispensable guarantees to preserve stability in Ireland [and] to preserve the integrity of the single market which is the foundation of the European project.
We will not find a new withdrawal agreement within 30 days that will be very different from the existing one.
The Irish backstop, as we call it, is a point that has been negotiated in the context of the geography of Ireland and the past political situation.
So it is an important element that allows us first of all to guarantee the stability in Ireland and also the integrity of the single market. These are our two goals.
What Angela Merkel said yesterday and which is very much in line with the discussions we have had since the very beginning is that we need visibility in 30 days.
I believe that this also matches the goal of Prime Minister Johnson. No one will wait until October 31 to find the right solution.
We should all together be able to find something smart within 30 days if there is goodwill on both sides.
I've always been presented as the hard boy in the group but it's just that I have always been clear: a choice was made and we cannot just ignore it. We have to implement a decision taken by the British people.
I want to make it absolutely clear to you Emmanuel - to the French people - that of course I want a deal. I think we can get a deal and a good deal. I was powerfully encouraged by our conversations last night in Berlin with our mutual friends. I know that with energy and creativity and application we can find a way forward for all our businesses and our citizens.
Continue reading...